The Liechtenstein private bank
Independent private bank since 1992
Best in class for you and your assets
New since
1992
Neue Bank was founded 0 days ago – the new private bank located in Vaduz . An opportunity to imagine and experience banking in an entirely new way. Our founding spirit – we're different, we're new, we don't take anything for granted – is still firmly integrated into our business culture even after nearly 30 years.
We are meanwhile an established private bank. Our expertise and approach are well known and form the basis for embarking on new paths. We were pioneers in sustainable portfolio management and are now among the best performers in this segment. New ways of thinking are part of our DNA. New every day – Neue Bank
The best in class for you and your assets. We don't market our own products. This frees us to find the right solution for you and your financial goals – independently, without sales pressure, using the best-in-class approach. Your investment goals form the basis for our advice and the resulting investment options. Our focus is on you – your needs and situation in life.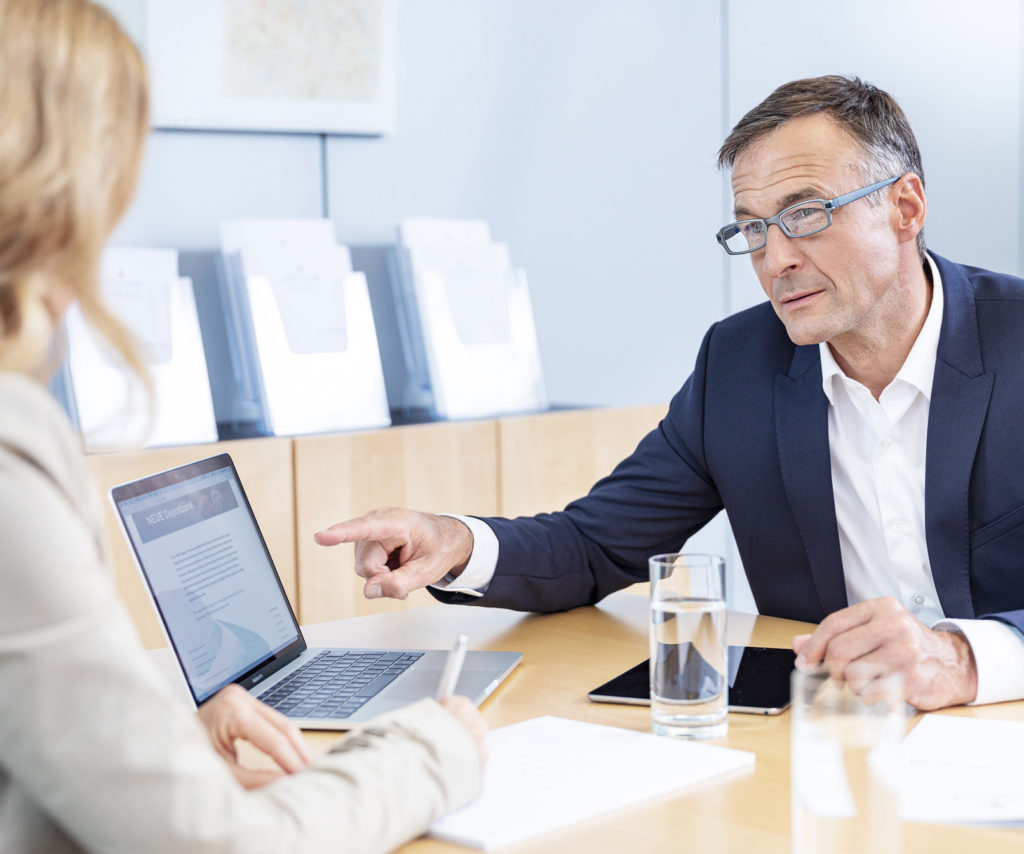 Our advisors take time for you. In a personal consultation, they take a close look at your questions and explore them in an understandable way. Our experts gain a comprehensive picture of your investment goals. An intensive discussion is followed by attractive investment recommendations. You make the decision – but our advisors are always at your side, ready to offer comprehensive expertise.
We manage your assets and actively implement your investment strategy. With PRIMUS-ETHICS, we are also able to offer our clients a progressive and equally successful investment mandate. In addition to the financial aspects of increasing your assets, investment decisions also take account of environmental and social impact.
You don't want to leave the future to chance? You want to protect yourself, your offspring, and your business – but you don't know the best way to do it? We take a close look at your current situation and your concerns. We accompany you step by step – until your plans for a secure future have been successfully implemented.
Professional Services
We accompany you as a responsible partner in the implementation of your projects.
Custodian bank
We are a custodian bank for fund assets totalling more than 1.5 billion Swiss francs. More than 70 renowned investment undertakings appreciate our professional service and streamlined decision-making. For the success of your private label fund, we make use of the location advantages of the Liechtenstein financial centre. Our experts also ensure a smooth and transparent process – from design to launch of your private label fund.
Intermediaries
In cooperation with intermediaries – including professional trustees, independent asset managers, and lawyers – we serve as experienced partners. Support by our specialists is also the core of our joint success. This service is perfectly complemented by our advanced infrastructure. All systems are easy, fast, and can be used online.
New every day
Every day, we place the client and their investment goals at the centre of our activities. We are not stuck in old structures, but instead pave the way for what will be important in future. We were one of the first banks to take a professional approach to sustainability. We are constantly working on improving our digital tools. Our employees undergo regular continuing training. For us, "new every day" means: We understand the times and we think ahead.